About the Urban Gypsies Tribal Belly Dance Style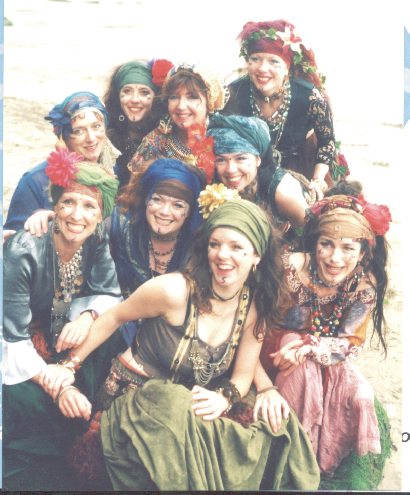 Introduction
Something completely different - bet you have never seen anything like this before!.
Tribal Belly Dance - The Urban Gypsy way!
Wild and energetic, celebratory and fun. The Urban Gypsies are a tribe of women who have worked hard to perfect this art. Fun, participative and like a village group getting together. Using funky World Music that has a fabulous "foot tapping" quality. Simple but powerful formations and involving the audience at all levels.

The Urban Gypsies themselves are really fun people who love Life and want to celebrate! They will uplift any event and leave you feeling high and rearing to go!
Trailblazing - funky and upbeat - something completely fresh and exciting!
Versatile and love what they do which is to Celebrate and Enjoy through Dance and to involve everyone around! Legendary for the way they get involved with the audience and so creating the Ultimate Street Party!
Brilliant and upbeat World Music, original and dramatic costumes inspired by timeless Ethnic dresses from around the Middle East. Extrovert and jovial women who will uplift things everywhere they go both offstage on on the stage.